Land prices on the real Earth is too expensive.
Purchase land on the digital Earth instead.
Earth 2 is a futuristic concept for a second earth; a metaverse, between virtual and physical reality in which real-world geolocations on a sectioned map correspond to user generated digital virtual environments.
These environments can be owned, bought, sold, and in the near future deeply customized.

1. You purchase virtual land
2. With time the land will appreciate
3. You sell it to someone else for a higher price
Case study.
Is this a scam/pyramid scheme?
With our research we saw this question came up a lot.
I would highly advise doing your research before investing into this project but if it is legit there is definitely some money to be made.
Here go the interest levels for the term Earth 2 recently.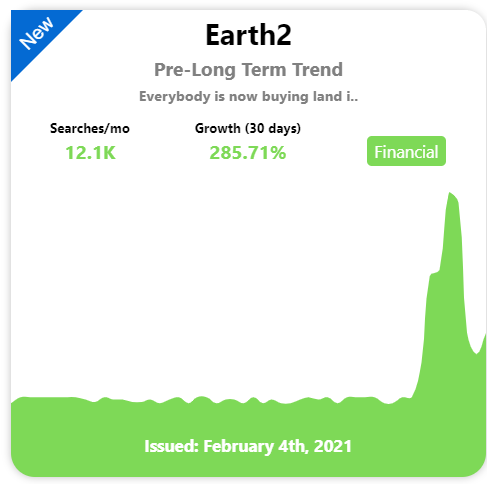 Anyway the point of Trend Watchers is to train people how to spot opportunities early before they go main stream.
Some may work well, others may not.
But in reality all you need is one major win to push yourself to the next level.
Happy Trend Watching!